Information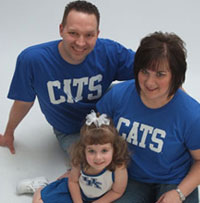 Amy K. Midkiff DMD
Dr. Midkiff grew up in the Ashland area, in the small towns of Flatwoods and Russell. She graduated from Russell High School in 1992. She then came to Lexington to attend Transylvania University, from which she graduated in 1996 with a Bachelor of Arts degree in Biology.

At that point, she entered the University of Kentucky College of Dentistry and graduated in 2000 with a Doctor of Dental Medicine (D.M.D.) degree. Having become an avid UK football and basketball fan and falling in love with the Bluegrass area, Dr. Midkiff decided to remain in Lexington to practice dentistry.

Dr. Midkiff strives to create a family atmosphere in her office. She and her staff take great pride in developing a personal relationship with every patient. The office is small and cozy, and the staff works diligently to provide impeccable service. Their focus is on gentle, comprehensive dental care with an emphasis on maintaining a healthy smile for a lifetime.

In her free time, Dr. Midkiff enjoys doing lots of fun activities with her husband, Chris, and their children, Lindsey and Jack.